Events:
No special events are scheduled at this time.
Latest news from Brew & Ewe:
_____________________________________________________________________________
11/15/2013
Brew and Ewe is now hiring! Restaurant/barista experience not required. Responsibilities include but are not limited to food prep, serving, running a cash register, making and serving various drinks, customer service, keeping a clean store and opening and closing duties. Must be available weekdays as well as weekends. Please stop by the store at 108 W. Broad St. Greenville, SC if you're interested in applying. We look forward to hearing from you! Please do not call or email about this position.
_____________________________________________________________________________
08/24/13

Come in and try our new Lunch Special this week! It's a Turkey Pastrami Reuben on rye bread with chips and your choice of tea or a house coffee.

We're looking forward to the Fall season and one of our favorite flavors - Pumpkin! Check in to see when it's arrived, or Like us on Facebook and we'll notify y'all as soon as it's here!

Indie Craft Parade is officially only two weeks away! We'll be open late September 6-8 to serve artists and customers from the event. Special hours will be posted soon - here, and on Facebook.
_____________________________________________________________________________
07/08/13

We'll be open late for Jersey Boys performances at the Peace Center starting this Wednesday, July 10th, and running through Sunday, July 21st. Our hours will be:

Sunday: 11:00 AM - 6:30 PM
Monday: 8:00 AM - 5:00 PM (regular hours)
Tuesday - Thursday: 8:00 AM - 7:30 PM
Friday & Saturday: 8:00 AM - 8:00 PM

We will be closed from July 22nd - July 28th for Summer vacation, resuming our regular hours on Monday, July 29th.

Don't forget, all coffee and espresso drinks are 50% off Monday-Friday from 3:00-4:00 PM.

Our current lunch special is a Tarragon Chicken Salad served on a croissant (or your choice of bread or wrap), with chips, pasta salad, or fruit salad and iced tea or small house coffee. Try it as a salad too!

If you're looking for a quick and light breakfast, try our fresh fruit and yogurt parfait with granola. Delicious!



10/25/12
Spook up your house with our halloween items! Select items 35% off in our store. Hurry in before they vanish!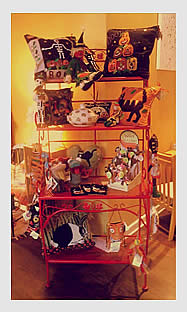 Also try one of our sandwich specials:
- Multi-grain pita with turkey, havarti, avacado, sprouts and honey mustard.
- Herbed chicken, havarti, pear, and basil-mayonnaise on multi-grain bread.
Both served with your choice of fruit salad, Greek pasta salad, or chips for $7.95

08/28/12
End of Summer Sale!!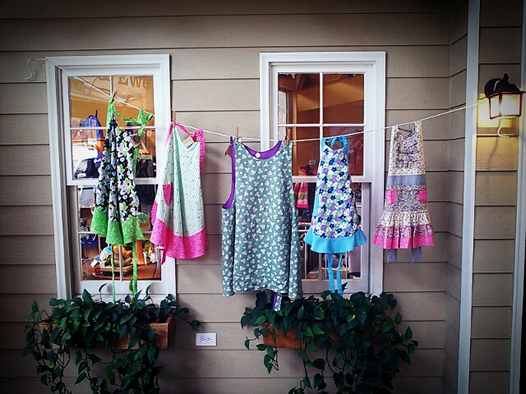 All of our aprons are on sale for 50% off for a limited time! Come check them out this Labor Day weekend. Also, speaking of Labor Day, we'll be closed on Labor Day -- Monday the 3rd. We will resume regular business hours Tuesday the 4th.

08/27/12
We just received Counter Culture Coffee's Haru from Ethiopia and we're hooked! Whether you're a coffee or tea fan, you'll be sure to love this blend with notes of lemon cream, honey and sweet black tea. While you're here be sure to enter our drawing for a $10 gift card!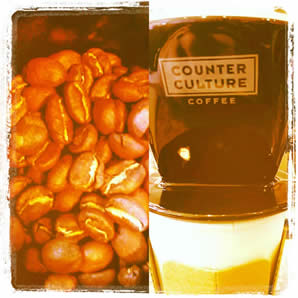 08/02/12
Rebeccah and Jennifer just returned from the intermediate espresso lab at the Counter Culture Coffee training center in Asheville, NC. They are eager to show off their new skills and knowledge.Stop in to see what they're brewing and while you're here try one of our different blends of Counter Culture Coffee such as Finca El Puente from Honduras. A bright blend with notes of blackberry, blackcurrant, and lavender with a sweet, floral aroma.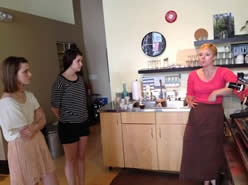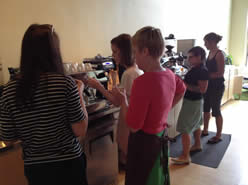 Pictures taken by Scott Satterwhite